CHINA dah semakin MELAMPAU !!!
Kenapa wa marah sgt ngan China kali ni sebab dah melampau sgt sifat TIDAK BERPERIKEMANUSIAAN depa ni!!
Hangin sungguh2 aku .. agak2 lah nak meniaga pon tapi sampai nak seksa binatang bagai ni apahal.
Yup.. itu kura2.. still ALIVE !
diowang letak dalam plastik kedap udara and jual tepi jalan sebagai keychain..
Bukan baby kura2 ni ja mangsa manusia durjana ni.. ikan, cicak and other exotic animals pon jadi mangsa.
If you have religious.. agama.. adakah agama awak ajar awak seksa binatang atau makhluk tuhan yang lain itu adalah perkara yang mulia? Come to think again.. tak rasa langsung ka kesian terhadap haiwan2 ni. they're still baby. cuba kalau aku ambik anak hang lepas tu aku buh dalam plastik ceni bagi mati buang anak2 hang?
Everybody should do something to STOP this CRIME !!!
Walaupon xbyk yang kita boley tolong but PLEASE u'olls DON'T BUY THESE KEY CHAINS!!
Boikot apa2 sahaja produk yang diperbuat daripada binatang.. xkisah lah dari kulit, bulu, cengkerang atau apa2 sahaja yang diperbuat dari haiwan exotik ini!
Disebabkan undang2 di China terhadap haiwan tidak ketat jadi perkara ini sah di sisi undang2 China.
They only have wildlife law..so any animals that not considered wildlife is ok to do anything they want. even killing? come on lah China!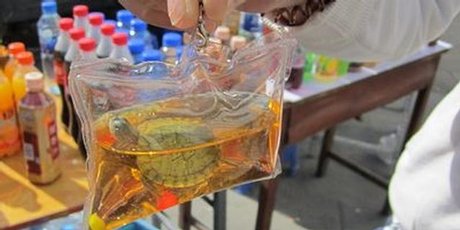 The colored liquid in the plastic was said containing all the nutrient the animal needs, but they can only stand for 2 months. Then what happen next?? itu nutrient ja .. habes binatang ni hidup xpakai oxygen ka?
Kadang2 bila manusia ni jadi terlalu rakus hilang terus nilai kemanusiaan dalam diri..
Bila tuhan beri kita amanah untuk mentadbir dunia.. termasuklah tanggungjawab kita terhadap makhluk2-Nya yang lain.. Jangan sesekali menjadi manusia yang tamak haloba.. Kerana wang sanggup menggadai nyawa makhluk lain dengan kejam.
Animals can't talk..so please be their voice. Speak up and share this information.. tell the whole world how cruel these people are and how bad their government is.
Yang benar,
Pencinta haiwan yang tegar!